The annual World Agility Forum conference recently took place in Lisbon; Ivar himself and Simon Girvan were scheduled to run two events there:
During the first, titled "The Flow System

&

Essence - Pieces of the Puzzle", we were joined by Nigel Thurlow for a workshop on how both Essence and TeamSpace help to provide value to The Flow System, which was founded in part by Nigel himself
The second workshop, "Why

AI

is better with Essence", we looked at how we can boost team performance using Essence alongside

AI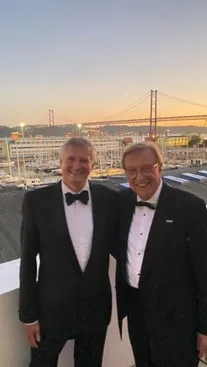 Both of these workshops were incredibly successful – they were filled to the brim, with thoroughly engaged audiences throughout!
Before either of these workshops took place, however, the leaders of the conference had a rather significant surprise for us…
During the Gala dinner, a conversation between Ivar and his wife was cut short when they both noticed a picture of him unexpectedly being displayed on 6 large TV screens around the hall - what they didn't know when they were putting together their itinerary was that Ivar was in line to receive a Lifetime Achievement Award from the leaders of the conference!
As the organizers of the event put it, "Ivar has shattered boundaries and rewritten the rulebook with his groundbreaking contributions, including the creation of the Unified Modeling Language (UML) and his revolutionary work on the Rational Unified Process (RUP). His relentless passion, innovative spirit, and tireless dedication have ignited a global wildfire of inspiration among professionals in our field". In short, he's a "fearless trailblazer who's transformed the way we envision software development and agility"!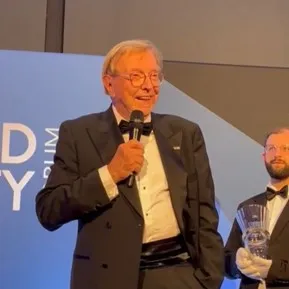 A huge congratulations to Ivar is, of course, in order, but he's far from done – after receiving the reward, he stated: "I felt extremely honoured. At the same time, I felt it was a bit too early, because I was not done with what I wanted to get done. Essence is getting more and more attention from everywhere and everyone" – so here's to seeing what else he has in store for us in the near future!