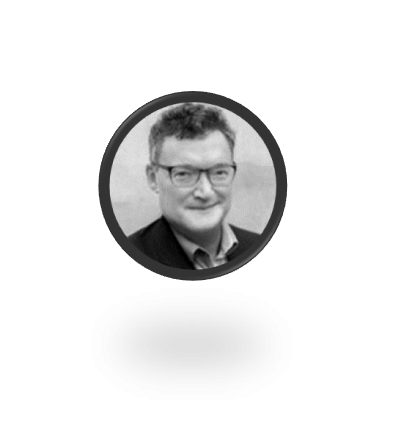 Chief Scientist, SAFe® Fellow & SPCT
Ian specializes in large-scale agile adoptions and practice-based organizational change. An experienced agile coach he has worked with 100s of projects to introduce iterative and agile practices, working with development teams ranging from 5 – 150 people. He has also led numerous successful, large-scale transformation projects in fields as diverse as government, telecommunications, finance, and internet start-ups, working with development organization of 5 – 5,000 people. His current interests are agile for large projects, agile out-sourcing, and driving sustainable change with agile measurements. He is also the co-author of two influential software development books, "Use Case Modeling" and "Managing Iterative Software Development Projects", and the team lead for the development of the SEMAT kernel.
Ian was one of the first European SAFe Program Consultant Trainers (SPCT); a reflection of not just his knowledge of SAFe but also his long experience working with Dean Leffingwell over the last 15 years, and his vast experience of successfully leading large-scale agile transformations. He regularly delivers both the SAFe Program Consultant and SAFe Practitioner training and often co-teaches the SAFe Program Consultant training with Dean when he is in London. He has coached a number of companies through the initial release planning events and Agile Release Train Quickstarts including Schneider Electric (over 18 teams across three continents) and Nordea (over 100 people in one room). He has also helped many customers apply SAFe practices, including MunichRe and Ericsson Modems, to scale their existing agile methods - IT Solutions environment. Ian regularly appears at conferences, publishes books and articles, and conducts webinars and seminars.
"In short, it was outstanding. For context, I'm not really that into courses; generally I find them slow and badly facilitated and contrary to my natural learning style. However in this case, I have been very impressed. Much of the material I was already familiar with, but Brian and Ian were so engaging and so knowledgeable that I found the entire 4 day event to be very worthwhile."



Training Testimonials
Though at the time we started attending Better Scrum through Essence class, I was not familiar with Essence, the class, with international participation and collaboration, was fabulous. It gave me a great overview on the topic. I especially liked the many use-cases / real examples that were presented and discussed. Additionally, I love to share Better Scrum through Essence knowledge and help building a community around that.'

Tomaž Aljaž, SPAR Slovenia
As a Lean/Agile consultant I needed to brush up on my existing experience of working with partners and suppliers, now in a fully agile context.

The course gave me a lot of useful tools, and I will put it to test very soon with customer(s).

In essence course was great, thanks a lot!

Robert Ramirez, Spain
Better Scrum through Essence was a great course for both validating knowledge and learning tools to support others on their learning and / or transition journey. I'm already looking at using some of the games to help reinforce people's knowledge during training sessions and provide tools to scrum teams that they can use in their retrospectives.

Jane Gough, UK
This course was well-worth the $$ and getting up at 2:30 AM due to time zones. I would do it again in heartbeat.

Tim Stamper
Better Scrum through Essence was a very useful course for me. As an agile coach I found it difficult to explain the similarities and differences between traditional project management and Scrum. Now I can explain Scrum to project managers in terms of Essence card games.

Toru Takeuchi, IBM Japan ltd., Japan
The Essence-based Scrum cards were great tools, used to introduce us into several scenarios employing the cards. I liked the combination of theory & practice, in particular the interactive exercises.

I learnt a lot (!). My main takeaways are:

– using a set of essence cards provides an excellent, systematic analysis of a given Scrum situation

– the results of such an analysis are intensified by visual representations (e.g., position of the cards).

Silvia von Stackelberg, Product Owner, Karlsruhe Germany
How do I really thank you for having me on this amazing experience.

This two-day training has just been a gift of the time. Attending it just flourished my agile journey by many beautiful learning gifts

I completely loved the cards, they have become my companion now. Additionally, the discussion on patterns that make scrum teams successful was phenomenal. The formation of Alphas, Activity Spaces and Competencies, Games and Activities looks very exciting and promising.

I can now channel my efforts to create a common ground, running experiments along with others to leverage the ground with greater visibility of where the team(s) are headed

Mahesh Jade, Change Agent, Mumbai, India.
The course is extremely engaging, a treasure of simulations, analyses, games and assessments. It contains a wealth of innovative formats to guide you into the depths of a practical understanding and mastery of SCRUM, as well as and its implications on teams, systems and organizations. I enjoyed these engaging 2 full days so much that I requested to be included in the further community efforts to develop this fascinating approach to SCRUM. Do yourself a favor, take the essence training. Getting beyond SCRUM pathologies like zombie or cargo cult and others, is going to be so much easier once you have engaged with this fascinating thing that is Essence of SCRUM.

Marwane El Kharbili, Ph. D., WOMAT, France
I truly enjoyed the 'Better Scrum through Essence' course: it has been complete and really meaningful.

I can't wait to attend the exam to be awarded with the prestigious 'Essence Scrum Gamemasters' badge.

Michael Forni, professional Agile Coach, London, UK
There was no doubt in my mind that, for SAFe SPC Training, I wanted to be coached by the best. IJI has been in the industry since before Agile was a word, and the two trainers, Ian Spence and Brian Tucker, are among the most experienced consultants in this domain. No doubt Scaled Agile takes the standard of training seriously, but Ian and Brian's credentials are so strong that I elected to participate in UK training that was six hours adrift from my regular 'daytime timezone' (3am starts for me on Zoom !), despite the local choice options in the USA.

The training itself was exceptionally well run - and certainly exceeded my expectations of an online course. The preparation and thought that had gone into this actually made it feel better suited to a remote method. Zoom breakout rooms were used to good effect, as were the white-boarding tools and their pre-class setup/design. The course made great use of the Scaled Agile 'standard material' but I felt that we all got very valuable bonus material from the presenters' and IJI's own arsenal of slides, exercises and media. The IJI Scaled Agile 'playing cards' are a particularly helpful addition to the SAFe program. Thanks also to the right mix of lecture, exercise, breaks and open conversation, the seven hours a day were full, educational and engaging - and above all…. enjoyable. I would have no hesitation in going back to IJI and Ian/Brian for the next wave of training for my organization.

Siôn Roberts, Glory
First of foremost, such a pleasure and honor to have had the opportunity to meet you virtually and gather rich insights directly.

I loved every aspect of the course, even though I joined from Toronto, Canada each day around 4am my time!. I came in looking for deeper perspective on leveraging use case model with agile @scale in complex environment and I got valuable nuggets. The course is pragmatic and I am looking forward to applying the learning right away. Ian and team have been amazing!

Gagan Marwaha
Better Scrum through Essence for me was very much an eyeopener! Really loved the gamification aspect of tackling some of the problems one can face when transforming / working in an agile organization.

To me the agile way of working is not rocket-science, but transforming a traditional organization into the agile way of working sometimes seems like rocket-science. Essence and its cards help to provide clarity and structure, helping everyone to understand status-quo, focus points and next steps!

Really grateful for being able to attend the course. I think it was hosted very well and I look forward to any future courses.

Pier van Zonneveld, VCSB, Sweden
The Better Scrum with Essence cards and pointers are food for thought, and something I can carry into our improvement dialogues in the company. I liked that both SAFe and other frameworks were referenced and compared, providing some inspiration for new avenues of learning. I would recommend the course to my RTEs and SMs without hesitation.

John Skov, Nordea
I had attended several information sessions about Essence cards and liked the idea, but was struggling to understand how to leverage the tool especially in a remote environment. The Better Scrum Through Essence course provided me with the insight to see the value of this tool. I look forward to leveraging the Essence Mural boards shared in the training, to help our teams to continuously improve our delivery.

Christie, SPC, US
The teachers contributed their knowledge on various topics using 'stories / experience', which made the class interesting and gave practical insight. Examples of organisations applying SAFe was helpful and gave confidence that the presenters were not just teachers but working practitioners – exactly what was wanted. I have no hesitation in recommending Ivar Jacobson International.

Stuart Lothianious, Lothianious Limited
I attended the course 'Use Cases for Agile at Scale' in Autumn 2020. My intent was to step out from the often too operational viewpoint of agile development and to incorporate a holistic view of the developed product. Such view is necessary to embrace the full software development lifecycle.

It turned out that the course helped me not only with my intent, but brought a set of tools to improve development at scale, team alignment and backlog management. I gained much more clarity in next steps of our agile journey, quality control and continuous improvement, and I'm looking forward to discussing and implementing it with our agile teams peers at home base.

I did enjoy the content and presentation style of Ian and Brian. Their rich experience and easy language made almost all of my questions too easy for them, and I appreciate their overtime hours to discuss the difficult ones. The tools of their choice broke the invisible walls of remote training that we all face during COVID times.

All together it was a superb course, which I have enjoyed thoroughly and find as useful as I hoped.

Arseny Krasikov, Quality Assurance Manager, IT platform, global corporation in machinery industry, 10000+ employees
Thanks for giving me the opportunity to learn from two experts. Both instructors show high degree of knowledge from the field in addition to mastering the theoretical stuff behind SAFe. What I especially appreciate is the possibility to discuss and exchange experiences during the course without rushing through all the slides. I am glad that Ivar Jacobson International ran this course remotely and enabled me to learn from the best!

Hussam Ahmad, DigLab
I liked the course very much! All information has a clear structure, and examples are straightforward. I'm very grateful to you for such an interesting and useful course and the ideas that it brought to my head!

Nataliya Dovgopol, Business Solution Architect, NIX
The course was very informative, while keeping what could become a dry subject interesting with good real-world examples/experiences to apply to the model as we learned each aspect.

I feel the course has opened my eyes into new ways we can work and improve our performance and traceability in the development cycle and offer a more unified approach for the team.

Jago Marris
The course is awesome! Starting from the introduction to the context and well-paced dive-in, shifting to the evolution of Use Cases and practical Use Case Modeling (guided step-by-step with well-prepared Mural boards and great timing), toward more complex concepts.

Ian Spence delivered a superb workshop. I received a lot of new information, insights, and thoughts for further research and experiments. Highly recommend this workshop for requirements engineers and business analysts to understand how they could apply well-defined techniques and updated approaches for scope modeling on pre-sales / discovery phases and further transition to project execution.

Ivar, appreciate your input and impact on the IT industry!

Taras Zakharkiv, Head of Business Analysis Office, ELEKS
Better Scrum through Essence was a great class. It had loads of great information brought together in well written and extensive set of cards, and with the games to help everyone along the way to engage with the cards.

The Essence based Scrum cards are immensely valuable in helping Scrum Masters or Agile Coaches to bring Scrum into practical application with the teams or companies. A very useful workshop to teach scrum coaches.

Vik Tailor, UK
The course was great. The cards and topics were very useful, hands-on and I can use the content immediately in my assignments. Bottomline, I recommend this course to people who want to know more on agile contracts.

I loved it.

Danny Dujardin, INNOCOM
I loved attending the course! It was a lot of fun and a great opportunity for sharing and learning. I especially appreciated having two teachers/facilitators online with us. It made discussions flow naturally and gave some different points of views to consider. I hope to come back for more trainings with Ian and Keith!

Christine Sjölander, Tetra Pak
I thoroughly enjoyed the 2-day Agile Contracting live virtual course led by Ian Spence. It exceeded my expectations and I feel like I now have some foundational knowledge on the topic to start building upon.

Overall, I had a great experience. I'm glad I invested the time and money to attend. I plan to attend your Use Case Modelling course in the near future and I look forward to being part of the Scrum Essence pilot in April.

Uloaku Ojiaku, Mezahab Group
The Better Scrum through Essence course is great! I had never heard about the Essence Kernel before. This framework will definitely help me and my team check our Scrum and tune our working processes.

Particularly, I liked the games we played, since they provide a very simple and interesting way to work with teams.

Alexey Usachou, Profitero
I found the Better Scrum through Essence course very interesting. The trainers were excellent in their delivery and facilitation of the class. I especially enjoyed the games in the Scrum Essentials and Scrum Accelerator modules and will be introducing some of these to the leaders and teams I coach.

Uloaku (Ula) Ojiaku, Agile Innovation Leaders podcast, UK
I found the course very valuable and useful. I had expected a course more solely focused on SAFe. Instead, I got a fabulous end to end course on Use Cases in an agile environment. I also found Ian Spence's guidance during the exercises very positive.

Gruenhut Steven
The course was great, I felt an online course can be more effective in terms of engagement than a traditional live class. I attended the class from India, thanks to the remote set up. The trainers were great too, with all their experience sharing from the ground. Hope to be in contact with them.

Bhaskar Majumder, Deloitte
Fantastic [use case] course material - brilliantly delivered - and an outstanding web-based online course as an add-on.

What more to ask for?

I especially appreciated the constant sharing of the instructors vast topic-related and real-life knowledge.

THANKS again Ian for yet another gem of a course!

Gerd Wessling, Dipl. Physicist
I wish we have had this training earlier, about a year or two ago.

If we had this training before we started on our large project, we would have avoided a lot of challenges we are dealing with today.

I would recommend this kind of training to others in the company/business (of course not to our competitors)

Wim Verdonck, TBA - Software Solutions & Services for ports, terminals & warehouses
I have been extremely pleased with this course, both from a content point of view and also from the view of the Instructors. Their excellent use of the technology, aligned with their superb knowledge of SAFe have provided me with a great platform to move forwards.

I will highly recommend this course and Ivar Jacobson to others.

Richard Osborne, Fujitsu UK
The trainers did a great job, and I am very happy to have taken this course. It was very engaging. Everyone joined in and we all agreed that it was the best investment in time we could have made!

Paula Rosu, Sweden