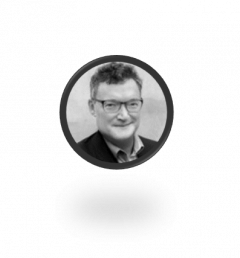 Chief Scientist, SAFe® Fellow & SPCT
Ian specializes in large-scale agile adoptions and practice-based organizational change. An experienced agile coach he has worked with 100s of projects to introduce iterative and agile practices, working with development teams ranging from 5 – 150 people. He has also led numerous successful, large-scale transformation projects in fields as diverse as government, telecommunications, finance, and internet start-ups, working with development organization of 5 – 5,000 people. His current interests are agile for large projects, agile out-sourcing, and driving sustainable change with agile measurements. He is also the co-author of two influential software development books, "Use Case Modeling" and "Managing Iterative Software Development Projects", and the team lead for the development of the SEMAT kernel.
Ian was one of the first European SAFe Program Consultant Trainers (SPCT); a reflection of not just his knowledge of SAFe but also his long experience working with Dean Leffingwell over the last 15 years, and his vast experience of successfully leading large-scale agile transformations. He regularly delivers both the SAFe Program Consultant and SAFe Practitioner training and often co-teaches the SAFe Program Consultant training with Dean when he is in London. He has coached a number of companies through the initial release planning events and Agile Release Train Quickstarts including Schneider Electric (over 18 teams across three continents) and Nordea (over 100 people in one room). He has also helped many customers apply SAFe practices, including MunichRe and Ericsson Modems, to scale their existing agile methods - IT Solutions environment. Ian regularly appears at conferences, publishes books and articles, and conducts webinars and seminars.
"In short, it was outstanding. For context, I'm not really that into courses; generally I find them slow and badly facilitated and contrary to my natural learning style. However in this case, I have been very impressed. Much of the material I was already familiar with, but Brian and Ian were so engaging and so knowledgeable that I found the entire 4 day event to be very worthwhile."